Meet Joseph Ayoub, DMD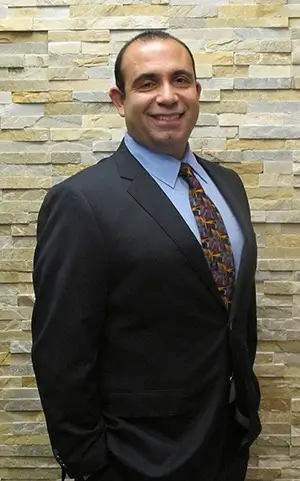 Dr. Joe is an award-winning leader in Cosmetic Dentistry, Laser Treatment, and Implant Placement and Restoration. After completing his undergraduate studies at Stony Brook University, Dr. Joe earned his Doctor of Dental Medicine degree at the University of Pittsburgh in 1998. His goal is to provide every patient with the highest quality of care with State-of-the-Art technology, comfort, and personalized care in a relaxed atmosphere. He will provide you with the best possible care and treat you like family.
While he has been practicing in the area for more than 20 years, Dr. Joe is always seeking to expand his, as well as his staffs education and knowledge in the dental field through attending continuing education courses, seminars, and conferences. He has received advanced training in CEREC® CAD/CAM Restorations, Invisalign®, Laser Dentistry, Neuromuscular and Implant Placement and Restoration, and Advanced Cosmetic Techniques using Lumineers®/Veneers. He has also been recognized with the "America's Top Dentists Award", from the Consumer's Research Council of America as one of the best in Implant Placement and Restoration, Cosmetic Dentistry & Laser Dentistry. Dr Joe has also been recognized by the National Consumer Advisory Board "America's Best Dentist".
Dr. Joe has been married to his wife, Annie, for 20+ years. They have two beautiful children, Joey and Brianna. His son is special needs, and Dr. Joe and Annie are very involved in awareness and raising funds for education.
CREDENTIALS
Doctorate of Dentistry in 1998 from the University of Pittsburgh School of Dental Medicine. More than 1,000 hours of continuing education programs. Dr. Joe is always up to date on the latest technology and trends in the dental field.
AFFILIATIONS
Member of the Suffolk County Dental Society-SCDS
Member of the American Dental Association-ADA
Member of the New York State Dental Association-NYSDA
Member of the Academy of General Dentistry-AGD
Member of the American Academy of Cosmetic Dentistry-AACD
Member of the American Academy of Implant Dentistry-AAID
Certification with Institute for Advanced Dental Studies Neuromuscular Implant
Member of The Academy of Laser Dentistry-ALD
Member of Chamber of Commerce
Awarded "America's Top Dentists" by Consumers' Research Council of America
Awarded "America's Best Dentist″ by National Consumer Advisory Board