Dental Implants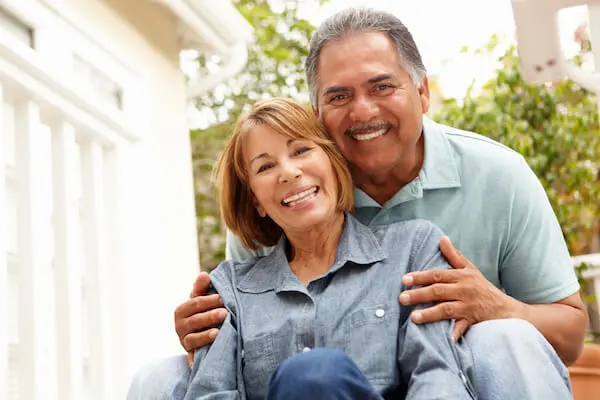 If you're missing teeth, you're not alone. Unfortunately, tooth loss is a far more common problem than you think. Whether you've lost one or multiple teeth to gum disease, tooth decay, or injury, the office of Dentistry By Design, PC in South Huntington can help. Our implant surgeon, Dr. Joseph Ayoub, provides state-of-the-art care and techniques when placing dental implants to give patients a complete, healthy, and beautiful smile.
Replace Missing Teeth With Dental Implants
Dental implants are the most advanced system for reconstructing and replacing a missing tooth or teeth. While traditional fixed dental bridges and dentures remain effective ways to replace teeth, dental implants are the best at replicating a genuine smile's look, feel, and function.
Implants allow you to eat and enjoy your favorite foods, speak more clearly, and smile with renewed confidence. Since dental implants behave the same way as the roots of natural teeth, they provide stability for placing a broad range of dental prostheses, including dental crowns and bridges. In addition, dental implants offer the added strength and retention needed to improve fit and comfort while preventing any slippage for patients who wear full dentures.
If you want the best solutions for replacing missing teeth, contact our South Huntington dental team at 631-823-1004 to learn more about dental implants and all our state-of-the-art technology and services. We take pride in creating and designing healthy, beautiful smiles!
Rebuild Your Smile With Implants
Missing teeth do more than cause awkward gaps in your smile. Implants can also affect your ability to speak or easily chew nutritious food. In addition, by not replacing missing teeth, the adjacent ones can shift into empty space over time, change your bite, and compromise the health of your smile in many ways.
What Are Dental Implants?
Implants are small, durable, biocompatible surgical posts that behave the same way as the roots of your natural teeth. Once integrated with the surrounding bone, dental implants support single crowns, bridges, and dentures. As the best and most advanced dentistry procedure for replacing missing teeth, implants offer a long-lasting, and functional solutions for rebuilding a complete, beautiful smile.
Benefits Of Dental Implants
While traditional fixed bridges and dentures provide effective solutions for replacing missing teeth, implant restorations offer many advantages over conventional methods of dental care:
Replicate natural teeth look, feel, and function.
Last many years with precise placement, good oral hygiene, and routine care.
Stimulate the bone to prevent the loss of bone when you miss a tooth.
Implants behave like natural teeth. There is no chance they will shift, slip, or dislodge like removable dentures when eating or communicating.
Easy to talk, eat, and taste all kinds of food with virtually no restrictions.
Do not decay and cannot develop cavities.
Candidates For Dental Implants
If you're wondering if you're a candidate for dental implants, it's easy to find out. At the office of Dentistry By Design, we're happy to look at your smile, answer all your questions, and explain your best treatment options in dental care. As the most versatile solution for reconstructing a complete smile, dental implants offer a variety of applications. Implants can repair and replace a single tooth, multiple teeth, and all upper or lower teeth.
You can count on Dentistry By Design, PC for the best solutions for your smile. We treat every smile as unique and develop treatment plans based on your dental and medical history and current oral health, cosmetic expectations of care, lifestyle, and budget.
Implant Placement ~ Oral Surgery
Oral surgery to place dental implants is considered a minor surgical procedure. The exact extent of the procedure depends on the type and number of implants and whether additional treatments are required to prepare the supporting bone. Before your dental implant procedure, we'll discuss your dental anesthesia and options for dental sedation and provide detailed pre-and post-op care instructions.
Once our implant dentist, Dr. Joseph Ayoub, places your dental implant, it can take a few months to integrate with the surrounding bone fully. So, while Dr. Ayoub can place a same-day temporary crown or bridge to provide a quick and cosmetically pleasing look, Dr. Joe will place the permanent prostheses when healing and osseointegration (fusion) with the surrounding bone is complete.
Bone Grafts & Implants
Clinical studies show that implant restorations have a long-term success rate of over 95%. However, the long-term success of an implant depends upon the presence of sufficient bone. By placing a bone graft at the extraction site or before placing the implant, we can establish adequate bone support for a sturdy and stable implant placement.
Schedule A Dental Implant Consultation
Contact our implant dentist in South Huntington at 631-823-1004 to schedule a implant consultation at Dentistry By Design, PC. Our implant dentist, Dr. Joseph Ayoub replaces missing teeth for patients with dental implants from throughout Long Island, including South Huntington, Huntington, and Melville, NY.