Porcelain Veneers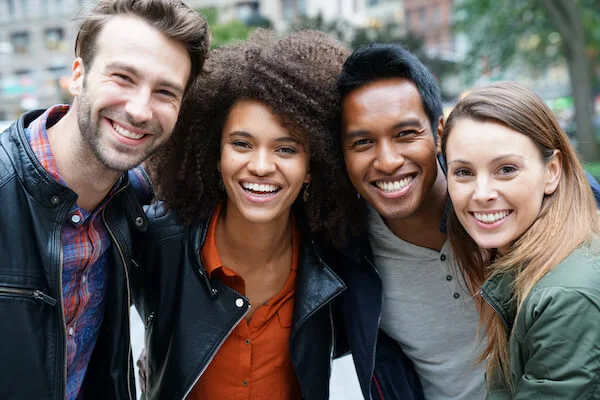 Porcelain veneers are a popular and effective way to dramatically improve your smile's appearance. If your teeth are chipped, crooked, poorly aligned, too short, discolored, or broken. In that case, porcelain veneers can correct and rejuvenate your smile in as few as two dental visits. The dental veneer treatment is one of our most popular cosmetic dentistry treatments in the Long Island area because veneers require minor alterations to the natural tooth structure.
Porcelain veneers best resemble the color of natural tooth's enamel to provide excellent results that look just like real teeth. Porcelain is also a stain-resistant material and is strong enough to offer smile results that can last years with proper oral hygiene.
Benefits of Porcelain Veneers
Whether you want to rejuvenate the appearance of a single front tooth or multiple teeth, porcelain veneers can turn an average smile into one that appears naturally beautiful and flawless. Below are some of the many benefits of porcelain dental veneers.
Boosted Confidence: Nothing feels better than walking into a room, knowing your smile will make a great first impression.
Save Time: Rather than addressing multiple imperfections with individual procedures, veneers can make several disappear simultaneously.
Instant Orthodontics: Minor cases of crookedness and crowding can be fixed with veneers, meaning a patient can skip spending years in braces!
Stronger Teeth: The high-quality porcelain of veneers reinforces the teeth and makes them less prone to chipping or breaking.
Stain-Resistant: While they aren't stain-proof, veneers are much less likely to stain than natural enamel due to exposure to drinks like coffee, wine, and soda.
Made to Last: Veneers can be trusted to last for about 10-15 years with just regular maintenance, which includes at-home oral hygiene and professional dental checkups twice a year.
Candidates For Porcelain Veneers
Ideal candidates for porcelain veneers in Huntington, NY, are adults who want a new, rejuvenated smile. Cosmetic veneers can hide problem stains or discoloration, chips, and cracks. Veneers can also improve worn down or crooked teeth, and fix teeth that are unevenly spaced or shaped.
At Dentistry By Design, PC, your cosmetic dental veneers will be customized to fit flawlessly over your teeth for a natural appearance. To personalize your treatment plan, Dr. Joseph Ayoub will listen to your dental desires and aesthetic concerns at your initial consultation.
Dr. Ayoub may also determine whether you're a good candidate for cosmetic dental veneers by analyzing the overall health of your mouth. For example, patients considering porcelain veneers should have healthy gums and not habitually grind their teeth and clench their jaws. If you have bruxism (teeth grinding), we will address this during the consult, as this could compromise the long-term result of your veneers.
Dental Veneers Treatment Process
At the office of Dentistry By Design, PC we combine the art, technology, and science of dentistry to design and create healthy, beautiful smiles. We've helped many patients improve the look of their smiles, and we are confident we will do the same for you.
Initial Consultation and Treatment Plan
Getting dental veneers begins with an initial consultation and thorough assessment of your overall dental health, oral function, and smile aesthetics. We'll also discuss your smile goals and create a treatment plan to meet your new smile expectations.
Impressions and Tooth Preparation
The amount of tooth preparation will vary depending on the particular requirements of the case, the type of porcelain veneer, and the amount of tooth structure removed. Our cosmetic dentist, Dr. Joseph Ayoub, removes just enough enamel for the ultra-thin facing to appear natural and remain sturdy when placed.
Once Dr. Ayoub and his team prepare the teeth, an impression gets taken, and we select an appropriate shade of porcelain, your new porcelain veneers are ready for fabrication. While waiting for your permanent veneer to return from the lab, Dr. Ayoub will fit you with temporary veneers to cover the teeth.
Placement & A New Smile!
When your porcelain veneers are ready, Dr. Joe will check their fit, size, shade, and shape. Before getting affixed to the teeth, Dr. Ayoub will make any adjustments to ensure a precise fit and optimal aesthetics. Once fitted, your new dental veneers are permanently bonded with composite resin cement so you can enjoy your new smile.
Enhance Your Smile With Porcelain Veneers Today!
Contact our cosmetic dentist at 631-823-1004 to schedule a porcelain veneer consultation. Our cosmetic dentist, Dr. Joseph Ayoub enhances smiles with dental veneers from throughout Long Island, including South Huntington, Huntington, and Melville, NY.