Advanced Dental Technology
Advanced Dental Technology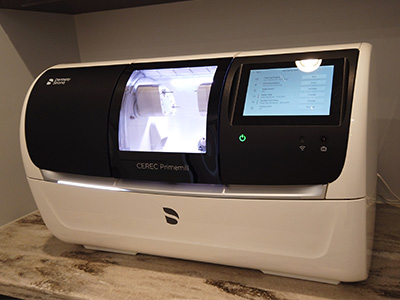 CEREC® Primemill
In today's hectic world, making time for dental appointments can be challenging. Our office understands the demands of your busy daily schedule and values your time. Therefore, we pride ourselves on offering the latest solutions to deliver precise, top-quality, convenient, stress-free dental care. For example, with the CEREC® Primemill unit, our office can fabricate attractive, long-lasting same-day crowns and restorations quicker!
ALL IT TAKES IS A FEW MINUTES!
As the fastest-ever chairside milling unit on the market today, the CEREC Primemill uses the latest technology to fabricate a crown in just minutes. Compatible with leading-edge optical scanning and integrated software systems, the CEREC Primemill unit takes the exact specs of the patient's prepared tooth and fabricates a precision-fitting ceramic restoration while the patient waits. In addition to reducing the milling time of your repair, this remarkable technology eliminates the wait time for lab work and the need for a temporary restoration. It offers unparalleled convenience, efficiency, and an exceptional patient experience.
CEREC® Primescan
CEREC® – Primescan 3D Mouth Scanner allows for the preparation and placement of same-day dental crowns. The system eliminates needing multiple visits, temporary crowns, and messy dental impressions.
CEREC® same day dental crowns is a popular, high-tech process during which Dr. Ayoub scans the target tooth and digitally designs your new dental crown. Next, the permanent restoration is precisely milled right in our South Huntington dental office.
The process utilizes CAD/CAM technology, computer-aided design, and manufacturing. A CEREC® Primescan single-visit crown offers much more than a fast and convenient approach to getting a dental crown restoration. It is a beautiful and extremely durable permanent dental restoration.
iTero® Digital Scanner
The iTero® Element™ Scanner is a popular, state-of-the-art digital impression machine that eliminates the need to use messy putty for dental impressions. In addition, our iTero Element Scanner can digitally capture an exact 3D model of your teeth and gums. As a result, the iTero® dental impression process is far more comfortable than the traditional putty-based impressions, faster, and can offer a superior clinical endpoint.
No goop or gag to worry about
A fast and accurate impression
Ideal for dental crowns, bridges, implants, and Invisalign® clear aligners and retainers
See a projection of your potential Invisalign treatment outcome
During the impression process, you can breathe or swallow normally. Feel free to pause during the impression process if you need to itch, sneeze, or ask a question. In addition, the scanner gives us a detailed 3D model of your mouth that you can use for your other dental care services, including the Invisalign® Outcome Simulator, to forecast what your new smile might look like.
Formlabs 3D Printer
Outstanding dental treatment outcomes require a skilled, experienced practitioner combined with the best technology and care systems. At Dentistry By Design, we offer leading-edge solutions to provide patients with top-quality dental services.
At Dentistry By Design in South Huntington, patient care and comfort are our top priorities. With a 3D printer from Formlabs, our office can perform procedures with the ultimate precision and control. Fully integrated with the leading optical scanning and software analytics, this advanced desktop 3D printer translates digital diagnostic information into the design and fabrication of dental models, surgical guides, splints, prostheses, and other appliances.
A Formlabs 3D printer allows our office to directly oversee every aspect of the workflow process, improving the precision, efficiency, and delivery of care. We can produce retainers, in-office aligners, and 3D models using this technology.
Axeos CBCT Scanner
Unlike traditional dental X-rays, Cone-Beam Computed Tomography (CBCT) Systems capture up to 1400 individual images during a single rotation and convert them into a high-resolution 3D image. The detailed 3D image gives dentists a superior view of the mouth, jaw, nasal and throat areas, including soft tissue and nerves. It has broad clinical applications, including dental implant planning, visualization of abnormal growths, cleft palate assessment, caries (cavities) detection, endodontic (root canal) diagnosis, vertical & horizontal root fractures, TMJ evaluation, and examination of dental trauma, bone loss, and infection.
Our advanced-trained cosmetic and implant dentist, Dr. Joseph Ayoub, uses this state-of-the-art technology, Axeos CBCT by Dentsply Sirona, to provide South Huntington patients with the best dental treatment outcome.
Quick ~ Comfortable ~ Effective
Axeos images are highly detailed, showing soft and hard tissue without sacrificing clarity.
Axeos CBCT Scanners are quick and painless, and the radiation dose is 100x times less than a conventional CT scanner.
We will analyze the position and orientation of critical structures, like nerves, teeth roots, the sinus, and the nose, helping to make your diagnosis as accurate as possible.
With this advanced imaging technology, we can ensure the long-term stability of your dental restorations.
We will focus on your desired cosmetic outcome throughout the dental treatment.
Laser Dentistry
The development of dental lasers provides patients with dental anxiety or who have a fear of the dentist, virtually painless dental treatment options. Today, our cosmetic dentist, Dr. Joseph Ayoub can use dental lasers to treat tooth decay and periodontal gum disease, perform biopsies or the removal of oral lesions, cure restorative (filling) materials, and activate in-office teeth whitening treatment systems.
Dental lasers combine energy with water and air to efficiently and safely cut and shape target soft or hard tissues in the patient's mouth. Laser energy precisely cuts through the hard tooth by exciting the water molecules in the patient's tooth. The laser operates without direct contact with the tooth, without heat, pressure, or vibration, thereby minimizing the discomfort of the treatment and the need for anesthesia. In addition, dentistry lasers can lessen anxiety for patients fearful of dental work or the dentist's office. Also, dental lasers minimize post-operative bleeding and swelling and preserve healthy tooth structure while removing tooth decay.
Contact our dentist at Dentistry By Design, PC in South Huntington NY to learn more about laser dentistry and the painless dentistry treatment options our dental team offers.