What Is A Dental Bridges?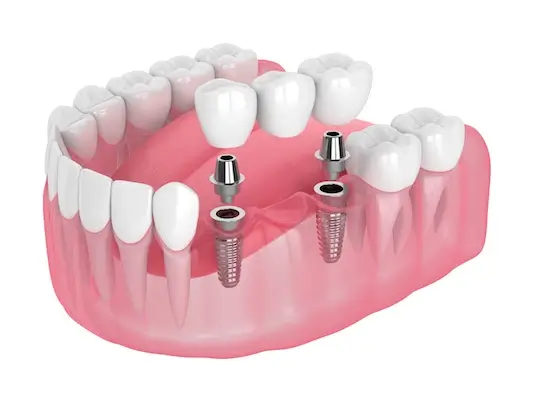 A dental bridge offers a practical, stable, and fixed solution for replacing missing teeth. Unlike removable partial dentures that clasp onto the remaining teeth, dental bridges rely on the support of crowns attached to teeth next to the edentulous area (space without teeth) or expertly placed dental implants. In addition to restoring the appearance, feel, and function of a beautiful, natural smile, they also prevent the teeth from shifting, protecting the alignment of the patient's bite.
Today in dentistry, dental bridges are manufactured from the highest quality dental materials. These materials include porcelain, porcelain fused to metal, and engineered ceramic products like zirconia. Besides being more substantial and durable than ever, they look more attractive and naturally beautiful.
Types Of Dental Bridges
Depending on how many teeth you're missing and other factors, a dental bridge can repair a single missing tooth or multiple teeth. A traditional fixed bridge or implant-supported bridge is the most common types of dental bridges used amongst Long Island patients.
Traditional Fixed Dental Bridge
A conventional fixed bridge usually requires the preparation and crowning of the teeth on either side of the edentulous space. These crowned teeth support the artificial ones, called "pontics," covering the gap. The way an industrial bridge extends over a river relies on the support of solid and durable pillars at each end; a dental bridge gets its stability from the terminal crowned teeth fused to single or multiple pontics.
Although similar to a traditional fixed bridge, a cantilever fixed bridge differs significantly. With a cantilever-fixed bridge, only one side of the pontic will be attached to a crown for support.
Implant-Supported Bridges
As the most advanced method for replacing missing teeth, dental implants are the closest to replicating a natural smile's look, feel, and function. For this reason, an implant-supported bridge is often the best option in dental care.
With an implant-supported dental bridge, there's no need to prepare, crown, or involve any adjacent teeth. Because dental implants behave the same way as the roots of natural teeth, the implant provides all the support a bridge needs. Implant-supported dental bridges offer the most versatile approach for rebuilding and repairing a complete smile. Professionally placed implants can support one replacement tooth up to an entire set of upper teeth or a full arch.
Dental implants provide the same stimulation as natural roots to the surrounding jawbone, implant-supported dental bridges also help prevent bone shrinkage that occurs when you have lost teeth. In addition, this feature helps maintain normal facial contours.
At the office of Dentistry By Design, PC, our mission is to help each patient enjoy excellent oral health and the many benefits of a beautiful, confident smile. Dr. Joseph Ayoub and his staff provide skilled, professional dental care and offer the most advanced dental implant-based solutions to transform incomplete smiles into ones that look great, function well, and promote confidence.
Schedule Dental Bridge Consult At Dentistry By Design PC
Call our dental team today at 631-823-1004 to schedule a dental bridge consultation with Dr. Joseph Ayoub at our South Huntington dental practice. As a highly-trained dentist, our office has treated patients with missing teeth with dental bridges from South Huntington, Huntington, Melville, Dix Hills, Woodbury, and throughout Long Island NY.